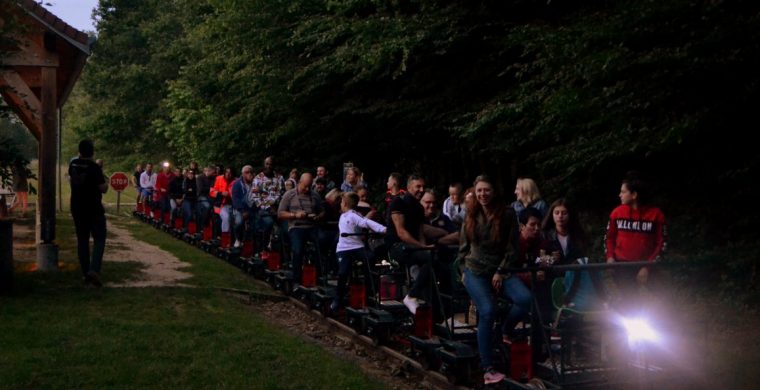 Ferra Botanica – By night
Craving for adventure? What about night-railbike?
What does the journey look like?
Embark for an all personalized experience!
There are 3 ways to get to the Railbike Departure Station:
Rather gentle : Get to the La Ferté Gaucher Tourist Office, and hop into the toursitic train (free with your railbike tickets, limited availability)
Rather sporty : Get to the La Ferté Gaucher Tourist Office and hop on your All Terrain Ebike for a 30 minutes to one-hour stroll across fields and forest (starting 9€ by person)
Rather practical : Get directly to the Railbike Departure Station, using your own vehicle (limited to 5 cars – be sure to get to the station 30mn after the regular appointment).
What about this "night-railbike" thing?
First hop in our tourstic train at dusk, to get from La Ferte Gaucher Tourist board to the raibike departure station.
There, after a mandatory party-starting security briefing, hop on your railbike and get going to the next station.
After this first dash, lay down and enjoy a very special evening, in a very unique setting :
this evening's mood depends on the dedicated scenario :
Jazz & Local Delights : live jazz performance (acoustique, swing), typical "briards" plates, all composed with local products (beers, cheeses, ciders, delicatessen, ice creams and so on)…
Barbecue : musical ambiance, and of course a giant BBQ, made with local treats only…
Cheeses & Wines : how come in France's most famous cheese region, and not eat cheese? Our partner, a local organic-cheese producer, invites all of you to taste some of his best products, and to discover the sometimes subtile arrangements that can be made with cheese and wine tastes (organic wines from the Loire region).
Zombie Rush : a weird virus attacks… Adrenaline rushes are at their best, when escaping frantic zombies !
The way back to the station happens at night. All the course is enlightened by numerous candles – according to our many visitors, this event is really someting !
Be careful : for security reasons, it is mandatory to be equiped with at least 1 frontal-light by railbike. Such lights are sold at the sation departure.
Can we book as a couple ?
Las, due to these events success, we do not accept bookings under 3 persons. We can always make last-minute exceptions, by phone only!
How much does it cost ?
The entry-fee is €28 per person, whatever the scenario.
That includes : the raibike rental, the show, the dinner, the illumination and the touristic train travel.
€28 per person for 5 people, or €19 per person + railbike rental price (45€)
AGENDA DES NOCTURNES – SAISON 2019
15/06 : Fromages & Vin
29/06 : Jazz & Terroir
13/07: Barbecue Géant
27/07: Formages et vins
10/08 : Jazz & Terroir
24/08 : Zombie Rush
26/10 : Railhoween